Into each rain, some life must fall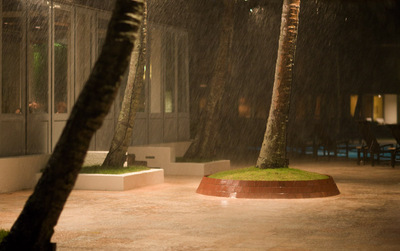 Seven of us were at the PPR pool bar last night reviewing the finals of Susan Liu's mermaid session; Paris from Cyprus, Francine from France, Paris and Francine's two children, Emile and Eve, who liked mermaids, Spaniard Yago Hurto (Susan's boyfriend), Susan and me.
We'd just finished downloading some jpegs for Susan to take back to China and a big wind and rain came up suddenly. I asked a Japanese girl on the next stool if she would go lean against the palm in the center of the picture. Joking, of course. But, I don't think her boyfriend was amused. Perhaps some cultural humor differences?