Greece - Ionian Sea - Zakynthos - Wreck Beach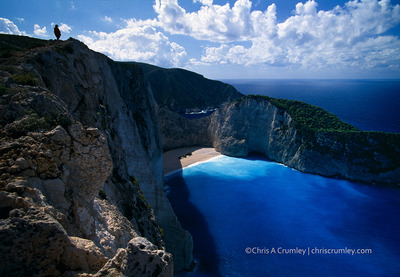 Friends are cruising the Aegean Sea in Greece this week and it took me back an exploration of Greece a few years back; both Aegean and Ionian Sea islands. The island-hopping was by ferry, sometimes on foot and sometimes with a rental car.
Spent a whole day to get this shot of Wreck Beach aka St. George Wreck Beach. Took back roads and 4WD across a field beside an old monastery to a cliff overlooking this beach (scary in a 2WD rental car). The freighter on the beach is a couple hundred feet long. Would liked to have had a tether shooting this, but didn't.