Yapese Mermaid Marilei Maifil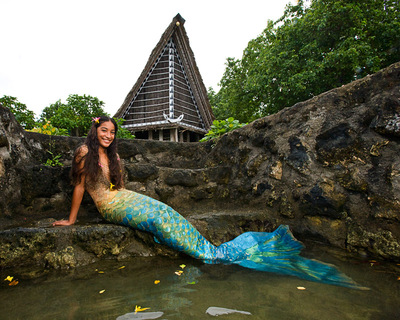 Yapese mermaid Marilei Maifil on steps to Talngith Village traditional Meeting House on bank of waterway near Miil Channel on island of Yap, Federated States of Micronesia (FSM) near junction of the Philippine Sea and Pacific Ocean.
The photo crew consisted of Enerihka Berger, Christina Macfarlane, Chuck Guthrie, Kathy Read, Julie Morgan, Manta Ray Bay Hotel driver Theo Gumang and Yap Divers boat Captain John Pekailug.
Additional Manta Ray Bay Hotel support was provided by Owner Bill Acker, Dive Operations Manager Jan Sledsens and Front Desk Manager Dinah Limchieg.